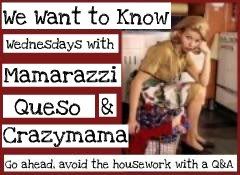 I'm linking up today for week 2 of WWTKW! Joining
Impulsive
,
Shawn
,
Mamarazzi
, and
Jannette
in some mid-week fun!
Thank the Lord for link-up parties, because I might never make a blog post.
I'm becoming a one trick pony. I'll try to rectify that.
After I finish my next fan fic.
Soon.
On with the show...
1.} What is the first thing you notice about the opposite sex? Are you an eyes or a smile person? Maybe another body part?
Welllllll, I think I notice eyes first...and then I scan down to check out other parts *achem*...then I eventually make my way back up to their eyes...and jaw line...and hair. I love good hair.
2.} If a movie was being made about you, who would you like to see cast to play you? And would your movie be a comedy, drama, romantic-comedy, action film or a horror movie?
I think I would like Sara Rue to play me...she's quirky and funny and a natural redhead.
It would definitely be a comedy w/ a romantic flair.
3.} Does your high school yearbook include a senior comment section? If so, share what you said about your future goals. Have you met those goals? If you do not have a yearbook, just share what your goals were when you were 18 and if you have met them. If you're brave enough, include your Senior picture!
So, this was funny to look back on. You kinda forget what your 18 year old self was thinking back then...makes me laugh.
My goals were...and I quote..."Attend Southwestern A/G University or OU and major in psychology or education (apparently I like to leave myself with options), wait for Alan to get back

(<----I totally forgot about this guy...'til yesterday

), and see what happens! "
Thanks to IA for hookin' me up with some yearbook info.
In case you're wondering, Alan was my (much older) boyfriend, who lived in Norman (

where I went to school at OU and majored in Elem Education

). I had met him the summer between my Jr and Sr year. I was head-over-heels for him, but turns out he was a womanizer/girlanizer. We were ova about a month after school started.
Note to 18 year old self: You shoulda dumped him WAY before then. Your senior year would have been a LOT more fun.
For your entertainment...my senior pic...kinda blurry due to it being a picture from the yearbook courtesy of IA!
4.} What latest trend simply baffles you?
I'm not really into the rompers...I thought those went out of style when we were 5?!
5.} When you walk into a room how do you present yourself? Do you walk in with confidence and command the attention of others or do you slink in and do your best to go unnoticed?
I think I try to blend...unless it's my party, then of course, I feel in control. Otherwise, I usually just try to mingle with people I know until I get acquainted with any new people.
This was fun,
Shawn
!
Be sure to stop by one of the hosts' blogs and link up!!