Last month, when I did the wedding shower and reception for a close friend,
I was looking for something that I could give her that would be useful. I had already bought the lingerie and the wedding gift. So, I was wanting something for the wedding day that she could really use. This is what I came up with.
A Wedding Day Survival Kit:
I found the adorable white satin, quilted bag at Michael's and I filled it with everything she could possibly need on her big day.
A snack - Nutella on the Go!
MIO - a little energy to squeeze into a bottle of water
A small first-aid kit for any blisters or boo-boos
Purell - never know when you need a little hand sanitizer
Visine - can even be used to reduce the redness of a last-minute pimple pop-up!
Nivea Lip Balm
Tylenol
Hand Lotion
Pepto - for any pre-wedding jitters/upset tummy
Blue finger nail polish - just in case she forgot her "something blue"
Kleenex pocket-size tissues
Orbit gum - Dirty mouth, clean it up!
Travel-size sewing kit - for any last minute emergencies!
Wisps - for fresh breath with no mess
Q-tips - for eleventy million uses
Shout Wipe & Gos - you just never know what will happen from dressing room to alter
These would make great Bridesmaids gifts too! You could even tweak them a little for Bachelorette party favors...add in some "hangover remedies".
The Bride loved it! She said it came in really handy on her wedding day!
In other news, I'm heading to Huntington Beach in 10 DAYS!!! Sofa king excited. Seriously. I'm sure you've heard already, but I'll be meeting up with Impulsive, Seriously Shawn, Viv @ The V-Spot, Becca from The Texas Darlings, Connie from The Young and Relentless, and Jen from Harried Mom of Four! *name dropper* It's a repeat of our trip from last year...
BUT we're headed to Cali instead of Texas and we're adding in Connie! I just read my Friday Confessions from last year's trip and I'm bouncing in my seat from excitement! Bring on the fun, friends, and fornication...KIDDING. I wanted to tag our trip #Californication, but they informed me there would be no fornication...and that name was already taken.
I'm linking up today to TTUT hosted by my skinny ass friends Impulsive and Shawn.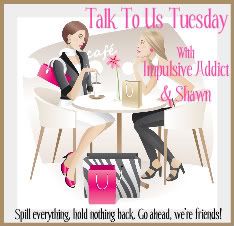 No rules, just fun. Stop by and link up! XOXO.