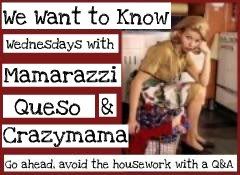 I'm linking up today for the first ever WWTKW
with
Impulsive Addict
,
Mamarazzi
,
Shawn
, and
Janette
.
This should be a fun mid-week meme...hopefully keeping me out of hiatus status, so I stay off of Impulsive's "big trouble" list. Each week there will be a new set of questions for us to answer on our blogs and link up with the Fab Four!
Let's get started... (cue the video for some scrolling/reading music...my theme song for this post.)
Yep, my friends are beautiful. Wanna hear about them? Here it goes...
IA, M, S, and J asked us to answer these Q's about our friends:
Do you make friends easily?

Um, yeah. I think I do. I'm social and pretty easy to get along with. I seem to have friends from every area/era of my life, so I think that equates to making friends easy.

What 3 qualities are a MUST in a friend?

1 - honesty/trust. You just can't have a good solid friendship without that. 2 - humor/fun. I am a fun-haver...and I love to laugh, so if we can't do those things, our friendship is likely to be short-lived. 3 - common interests. Let's face it without things to talk about or things to enjoy together, can you really have a "friendship"? I think not.

What makes YOU a good friend?

I'm loyal and trustworthy. I LOVE to have a good time...and I have no shame in sacrificing my own dignity to make that happen. If we're friends once, we're friends for life.

Have you ever met a bloggy friend in real life?

Yes?

Tell us about the meet up. No? Who would you love to meet?

So, yes. I've met several blogging/online friends. The first person I ever met from the blogging world was Melissa. She used to be a regular blogger on a blog called The Crazy Daisy. You can read about my trip to Denver to surprise her for her birthday HERE. I've also met Julia from Brainella. We met up at the Starbucks in Owasso while she was here with her family visiting family. We talked non-stop and had a great time! Of course, I've met all of The RHOK ladies, who I met through blogging and a few of them ended up coming to my first Twilight premiere party I threw for New Moon. The rest is history. Plus, I've met a lot of bloggers through our RHOK Outs. Meeting bloggers is a favorite pastime! I can't wait for next month when I get to hang out with Impulsive, Shawn, Becca, Vivienne, and Jen for a couple of days in Austin!! It's going to be epic!
Who is your best friend? Tell us about them.

I kinda hate this question. I don't like putting my friends in categories, per say. However, I'll answer to the best of my ability.
First, there is Jordana.

She is one of my oldest friends. We've shared a million and one experiences together...the good, the bad, and the ugly. We've known each other since grade school, but we've been best friends since I was in the 9th grade. We went our separate ways at college...she attended OSU and I attended OU. You would think that would have been a deal breaker, but we managed to stay tight although we attended rivaling universities. We both married Michaels. She's always been there for me...maid of honors at each others weddings, births of our children, funerals, etc...and although we don't see each other in person as much as we would like, I know she would be there for me, no matter what...and she knows the same is true for her.
Then, there is Trisha.
We met through blogging...and we've never met in person. BUT she's my person. She is who I tell my deepest darkest secrets to...like how much I weigh, and the dream I had last night involving Rob Pattinson and a volvo. We talk on the phone occasionally, but we keep up with each other's daily lives through text. We like share the same soul. She's a kindred spirit. I swear most of our text start out with one of us saying something and the other one saying "ME TOO"! The top of my bucket list has Trisha's name on it...we must meet in person ASAP.
I can't leave my cousins out of this list of BFFs. My cousin Lindsay
has been in my life since the day she was born. We've always had a special bond and it reaches across the miles, as she moved away and left me a few years ago. We share everything and we count down the days until we'll see each other again.
The same goes for my cousin Kristen.

She's my girl. We share a love of shopping, Coach, and Starbucks. She even indulges my Twilight addiction and went to The Twilight Convention with me last year. She's getting married this September and I'm so looking forward to witnessing this next phase of her life.
And there is Alison.

My long lost cousin...who we didn't even know each other existed until she moved to Oklahoma from Arizona about 5 years ago. It was kismet. We were meant to be together. We share an undying love for all things Twilight and Rob Pattinson. She helped me plan my last premiere party...my partner-in-crime. She is my sushi-lovin-twilight-watchin-movie-going-wine-drinkin friend. She left me and went back to Phoenix, but we are still close and miss each other like crazy. Can't wait until she's here in November for Breaking Dawn!!
And of course, there are my 3HOs3
...
Impulsive Addict (Skillz) and Mona (X-Rated).
I love these girls like Charlie Sheen loves crack and whores.
We have the best time together at our monthly GNOs. I've known IA for about my whole life. We go way back to grade school, but we've just recently reconnected and made it a point to hang out. Mona and I have been friends since the 6th grade when she moved to Dub Town. She was in my wedding and we've remained close friends through the years.
And of course there are all of you guys...I love my BBFs! What would I do without you all?!
Be sure to stop by and link up for the first installment of
WWTKW
!