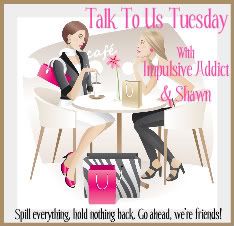 I'm linking up with two of my verrah verrah favorite girlz, Impulsive Addict and Seriously Shawn, for a fun new meme titled Talk To Us Tuesday.
The purpose of the meme is really simple...just talk...about whatever. Easy-peasy-japanesy, right?!
I figure I'll just use these link-ups to tell you what's on my mind...which could be scary, or weird, or annoying, or (a combination of all three) about sparkly vampires...
Speaking of sparkly vampires, have I told you I'm going to Forks, WA? If you ask me what's in Forks, WA, I'll slap you...right through this computer. Don't look at me like that. I'm serious. If you don't know, you can Google it. Then come back and we'll have a nice normal conversation about a lovely place called Forks where sparkly vampires roam.
*day dream with me for a moment*
You guys do realize that I fully expect to have an encounter with Edward...and you do realize how much comforting and consoling I'm going to need if I don't get that right? So, keep your calendars open for October 2nd at 9:55pm...that's when my plane lands back in Tulsa.
I'm going on another crazy trip where I don't know anybody in real life, except for my travel buddy, Twitter friend turned Twitard bestie, Jiff Simpson. We're meeting up with a whole slew of Twitards in Seattle. A lot of them we've met through blogging and Twitter, but we've never met any of them in person. Fortunately, I've had several of these types of meet-ups and I've always had an amazing time, so I'm stoked...to say the least.
I leave in 15 days!! I could probably tell you the hours, minutes and seconds...but I won't bore you with details. It's like a pilgrimage to the Promise Land. I have a check-list a mile long of pictures I MUST take and things I MUST do, but more than anything I hope time slows WAY down the minute I step off that plane in Seattle, so I can enjoy it and soak it all in...and give myself the best chance at shagging snagging a sparkly vampire while I'm there.
Hey, don't look at me like that. Edward is on my Freebie List!
Want a post card from Forks?? E-mail me your addy!