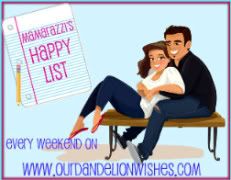 This week, the things that make me most

happy

are house related.
We are finally to a stage of the building process that I can help with. I'm now just DAYS away from getting to move our things over, organizing, starting to decorate, buying a few new pieces of furniture...#icannotwait
It makes me happy. Decorating and organizing make me happy.
Last Thursday, Michael and my uncle started pouring our concrete counter tops.

LOVE them

.
They make me happy

. Is that silly?
Also, you see this little

cardinal

?
Well, I love birds...especially

red birds

.
I would love nothing more than to get a beautiful, vivid shot of this lovely cardinal that lives in the tree outside of my Granny's kitchen window...but he will not let me.
I know it's a

"he"

because

HE

is being so difficult and stubborn.
The day I get my shot will make me

very happy...

maybe this weekend?
Lastly, I wish I were having a fancy Oscar party tomorrow night. I would make everyone wear gold and we would fill out ballots and give out our own Oscars. It would be great.

sigh.

That would make me happy...but I'm not.
However, I am happy that my chances of seeing this guy
<----on the red carpet tomorrow night are looking pret-ty good.
Anyfangirl, hope you all are having a great weekend!
What's making you happy these days?