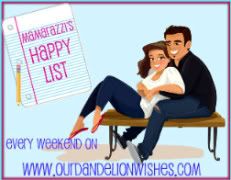 I'm linking up once again with Mamarazzi and her Happy List.
So, what's making me happy these days??
Swaps.
I love 'em. I'm slightly addicted.
They make me happy!
Here's my latest package that went out on Thursday to
Stephanie
, my new bloggy friend.
"Hi, Stephanie! Hope you like your swap package!!"
This Oklahoma weather has been giving me whiplash...cold, hot, cold, hot, ridiculously windy...which ultimately leads to chapped lips, which I hate. So, this makes me happy.
My new favorite "something sweet". They are SO good.
Happy, happy, happy.
Taking and editing pictures. Yep, I love it. Makes me happy.
I found this picture while going through the Valentine's Party Pics from Isaiah's class...I like it. I made those cupcakes...they were yummy. Cupcakes make me happy.
What's making you happy today? Go check out all the other Happy List posts over at Mamarazzi's!
Hope everyone is having a spectacular weekend!!
P.S.

Comment on this post if you want a chance to win two of my favorite things I listed above!

It's a small-itty-bitty giveaway

...I'll leave it open until Monday @ midnight and announce the winner in Tuesday's post.