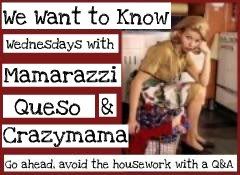 I am linking up once again with
Shawn
,
Impulsive
,
Mama
, and
Janette
for their nosey-azz questions.
This week, Shawn came up with these fabulous "MUST" questions:
1.} What must you do before you go to bed at night?

I MUST take my make-up off and brush my teeth, AND I must read on my Kindle or iPhone. I can't go to sleep until I do...it's like a soothing lullaby.
2.} What is one thing you must snack on at the theater?

Um, not really any MUSTS, but I do love Hot Tamales!
3.} Before going on vacation what must you do?

I MUST have a clean house. I HATE coming home from vacay to a dirty house. Not happening!
4.} What is one thing you must do every day?

So many things...um, where to start? I don't know how to pick just one. Pray, drink coffee, interact in social networks, give Isaiah lots of hugs and kisses, laugh (TOTAL MUST), be a dork ('cause I can't help myself), take vitamins, call my granny...
5.} Is there something you do that must be done in a particular order?

Yeah, lots of things, but I'll use showering for example...I always always always start with my hair, shampoo it, wash my face, rinse my hair and my face all at the same time, put conditioner in my hair, lather up, wash, shave, and then rinse my hair and everything else. In that order. No variations.