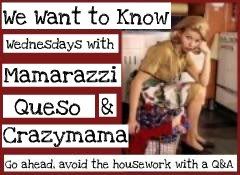 I'm linking up once again for my mid-week-blogging-fix with
Impulsive
,
Shawn
,
Mamarazzi
, and
Jannette
for WWTKW!
This week's questions are brought to us by the lovely Jannette from Est 5.26.07 ~ The Johanson Journey.
She wants to know...
1. What game show have you always thought you could be on and totally WIN!
Hmmm...I think I would do pretty good on the Singing Bee, as long as they stick to 90's hip-hop/rap, hairbands, and country.
2. Do you have a tattoo(s)? What are they and what made you chose them? If not, would you get one, yes/no/why?
Holy shiz. This is where I lose followers.
Wellllll...yes, I have tattoos. 3 of them. They are:
1. A cresent moon and two stars on my left foot. A blue star for Michael (his birthstone is a sapphire) and a red star for Isaiah (his birthstone is a garnet)
2. The phrase "frequently dazzled" with an apple and "sparkles" on my left side (on my rib area)...the saying is from Twilight and the apple of course is also from Twilight...and the sparkles are...um, well...from the sparkly vampires of Twilight.
3. A Mockingjay on my back between my shoulder blades...the Mockingjay is a fictional bird from the Hunger Games Trilogy. If you wanna read more about why I picked it, you can read THIS.
3. What is your favorite piece of jewelry that you own?

My wedding ring. It's the piece of jewelry I've had the longest. I don't buy expensive jewelry, so it's the most valuable thing I wear.
4. What is your driving pet peeve(s)?
People driving slow in the fast lane. Pisses me off.
5. What was your favorite sitcom growing up that you wish was still on?
From the 80's - The Cosby Show. Bill is hilarious.
From the 90's - Seinfeld. We still watch the re-runs and used to have every episode recorded to VHS tapes.
Want more WWTKW fun?! Stop by

Impulsive

,

Shawn

,

Mamarazzi

, or

Jannette

's blogs and link up!