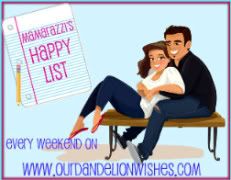 Once again, I'm linking up with the seriously cute, Mamarazzi for
The Weekend Happy List!
One tall iced skinny caramel macchiato, please!
This is happiness in a cup.
Mmmmmmm...a New York Dog at Sonic. Have you guys tried these?? They're SOOOOO good. Not on THE diet, but delish!
They make me kinda happy.
Spring is in the air! That makes me VERY happy!!
We're also moving in...there's furniture in the new part of the house!!
Pictures coming soon!
You know that makes me UBER happy!
Hope you're all having a great weekend!!