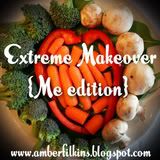 Amber
at
{aefilkins}
hosts
Extreme Makeover: Me Edition
each week on Wednesdays. It is a
fabulous
time to read other people's journey to
healthy living
and
weight loss
,
gain encouragement
,
give encouragement
...
and make friends
! We all want friends, right?! :)
This week's topic is simple:

--------------------------------------------------------------

Share with us how you're feeling about your progress.

--------------------------------------------------------------
To be completely honest, this week has been a struggle for me. I haven't worked out with Maksim since last Friday! *hang head in shame* My in-laws came for a visit over the weekend and with visitors always comes FOOD! We grilled out and I was good...I made myself a turkey burger and it was YUMM-O!
Let's pause for a recipe break...
Jenny's YUMM-O Turkey Burgers
1 pound of ground Turkey (all white meat...lean)
2 slices of Pepper Jack Cheese
seasoning salt
Directions: divide ground turkey into 4 equal parts. Roll turkey into a ball and press out. Take cheese slices and divide them into fourths. Press 2 cheese squares in the middle of each turkey patty and cover with the ground turkey and press back into a patty. Season w/ seasoning salt (or any kind of seasoning) and grill...and Enjoy! They're delish!
You know how it is when family is around...you just sit and visit and eat...and drink mojitos. Oh, you don't drink mojitos? Hmmm. Maybe that's just us. Well, for anyone wanting to know a mojito made w/ 2 oz light rum and 4 oz of mojito mix is 4 points on WW.
On Sunday, Isaiah went home with his Grammy and Papaw for a few days. *insert pouty lip and major sad face* He's NEVER been out-of-town without us and NEVER stayed that many days without us. It was so hard to let him go...he's my baby and I want to keep him that way...BUT it was good for him and he LOVED it!

Going to Grammy and Papaw's!

He really had a great time and did terrific! However, while he was gone, in the evening I felt myself wanting to eat and snack due to nervousness/boredom. It was all I could do to just go to bed and not eat something...popcorn, chips and guacamole, crackers and cream cheese...something! I'm just relieved to make it to Wednesday. Isaiah is back home and it's weigh-in day at WW! WOOHOO! As of last week, I had lost 16.2 pounds LOST 18 POUNDS (an additional 1.8 at WW this week!). *fingers crossed* for another good weight loss. (I'll come back on and update this post after weigh-in.) I had a small goal set for this weekend. When I started trying to lose weight back in March, I had said I wanted to lose 20 pounds by my family reunion, which is this weekend. I don't think I'll hit 20, but I feel good knowing that I'm close. My next goal was to have lost 25 pounds by the NKOTB concert in Dallas on the 17th of July. I'm really hoping to meet that one! I need to look smokin' hott for Joey! (Right, Xazmin?! :)
My goals for this week are:

to keep eating as many fruits and veggies as I can squeeze into a day..."portable fruits" (aka bananas, grapes, berries...things that don't need peeled, cut, or sliced)

ROCK!

I also have been trying to drink at least 8-10 glasses of water every day...thanks to my stainless steel water bottle, it's been pretty easy! I love that thing!

I MUST

exercise! I'm hoping my nose unclogs so I can get back to exercising with Maksim asap ...acceptable levels of oxygen are essential while exercising with Maksim!
Check out this mass mailing...
If you commented on a Comment for a Cause, you have a package headed your way! :)
**I'm still having MAJOR blogging issues, so please know that I'm trying to get around to everyone's blog and comment...it just takes me FOREVER!!!...if I see one more "error" message I think I'll SCREAM and simultaneously throw my computer out of this 4th story window...hopefully, things will be back to normal soon!**
Hope everyone is having a great week!