Mamarazzi
hosts a fun link party on the weekends called
Mamarazzi's Happy List
.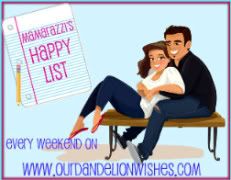 I love happy.
I love link parties.
I love Mamarazzi.
It's a no-brainer.
A few things that made me happy this past week are...
The snow.
The Valentine's cupcakes are back at Starbucks.
*squeeee*
If you haven't had these, you must. To die for.
I got to dress up in 50's attire today for Happy Days at church.
Uber fun. I think I was born in the wrong era. My saddle oxfords are so comfortable.
I'm totally going to rock them with some jeans or something...definitely going to figure out how to work them into my regular wardrobe.
This little guy makes me happy on a daily basis.
Our house is completely painted!
That makes me so so happy.
Tomorrow I'll be doing housework over at The RHOK.
Stop by, visit me, and join in our McLinky Monday!