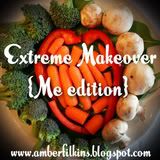 So, today
Amber
wants to know if we watch
The Biggest Loser
and
what we think
?
Is it inspiring
?
To be completely honest, I love BL and I always have good intentions of watching it and I do sometimes, but I'm not faithful at all. I try to make it to church on Wednesday nights, and I usually DVR BL...BUT you should see my DVR schedule. It is JAMMED packed full of shows. Michael is always nagging for me to quit setting things to record. However, he does NOT allow me to delete shows. He does all the DVR maintenance. I'm notorious for deleting ALL the DVR'd shows. I don't know what happens. I think I'm deleting just my show and BAM...the next thing I know the whole DVR listing is

EMPTY

. I tried to play dumb the first time...like, "that CRAZY DVR...we should call them and tell them we need a new one!" After a couple of times...it's sooooo obvious that it's not a DVR glitch.

I digress.
Even though I don't watch The Biggest Loser faithfully,

I do love the show

. I think it is amazing what those people can accomplish during their time at the ranch. I'm totally inspired and when I do watch I actually get pumped up and note some of the things that they are doing and apply it to my weight loss efforts.

I also CRY... A LOT!

At times, that can lead to emotional eating. So, I kind of have to be careful and be prepared with a low point snack, because I know I'm going to want to
I

GAINED at WW today...AGAIN

! It was only .2 (two tenths), but UGH! It is so frustrating. However, I stayed for the meeting today and it was so helpful. Our WW leader was talking about setting goals and how we see success. She reminded us that our weight does not define US! That is so true and such a great thing to remember. Also, she made mention that we should try to rid ourselves of stress. It is proven that stress alone can pack on the pounds or at least keep you from losing pounds. So, I'm making it my one and only goal this week to do some major stress relieving...exercise, prayer, devotion.
How are you doing?
Hope everyone is having a wonderful Wednesday!