1. Everyone seems to have a quirky family situation-- what is something unique about your family dynamic?
I guess what's unique about my family is that I am my mother's only child, but I have 3 half-siblings and 2 step-siblings. Also, both mine and Michael's moms are twins...kinda crazy, huh?
2. What is the most stressful aspect to blogging (aside from the network going down)?
Comments. Commenting...replying to comments...making the rounds. It gets stressful sometimes keeping up with it all and then you do what I do and just become a total blog fail for a while.
3. We all end up on a blog at some point in our day, but name your top 3 favorite websites you flock to daily (non blog)!
Twitter.com
FanFiction.net
Letterstotwilight.com
and
Letterstorob.com
4. What's your sign? Believe in it or not, does any part ring true to you?
I'm a Libra.
This is what I found when I Googled "characteristics of a Libra" :
The objective of a Libra is to spread harmony and co-operation in his surroundings. Libra symbol is a pair of scales. It is the only Zodiac sign to be represented by an object. The basic characteristic of Librans is fairness and justice. They focus all their energy in balancing everything and are very good at maintaining a perfect balance. Librans have the ability to view complex situations with an unbiased consideration. After weighing all the options, they always come up with an impartial solution.
They are socially active and enjoy the company of like-minded people. Due to their basic nature, these people are creative and love art in every form. They like to experiment with colors, form and elements in everything they do. With regard to interpersonal relationships, Librans are specialists. They have the habit of putting others' needs on a higher priority than their own. They can diplomatically find the solution to any problem however serious it may be. "To every action there is an opposite and equal reaction" – this explains the behavior of Librans. They can easily control 'cause and effect' which make them perfect strategists.
I'm not sure how much weight I put in my zodiac sign, but I do see some of the things listed about in myself.
5. IceCream!! ICECREAM!! We all scream for icecream! Name your favorite flavor/brand!
Mint Chocolate Chip. I prefer Braum's or Edy's.
BONUS QUESTIONS if you dare..
A. Name the blog you credit for linking up with us today?
Impulsive. She has blackmail information/pics/and vids on me, so I do what she tells...me most of the time.
B. Suggest a question you want to see in future WWTK's!
- Hmmm. What's your favorite song right now? What song makes you think of high school or another special time in your life?
If you're looking for a midweek fix, go link up with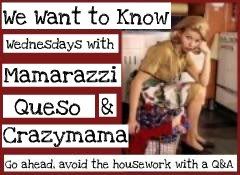 Impulsive Addict,
Janette
,
Mamarazzi
and
Shawn